Novotneho Lavka and Karlovy Lazne from Most Legii
Novotneho Lavka in Prague
Novotneho Lavka is a block of historical houses reaching into the Vltava River next to Charles Bridge (you can see a little part of Charles Bridge on the left side of the picture).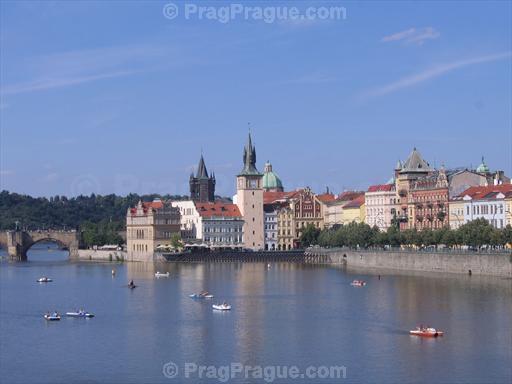 The place was first mentioned in 1396, when there were several mills. Over the centuries, the Lavka (which means foot bridge in Czech) changed owners and purpose of the buildings several times. Nowadays, Novotneho Lavka is named after Karel Novotny, a 19th century miller. The buildings of the original mills now serve as Bedrich Smetana Museum (at the end of the Lavka on the left), Lavka Club and Theatre, and Karlovy Lazne.
Karlovy Lazne Music Club in Prague
Karlovy Lazne claims being the largest music club in Central Europe. There are five different sections (on 5 floor), each hosting a different DJ or different event every night. Usually Karlovy Lazne Club is open 7 nights a week, but only 3 floors are open on the less busy mid-workweek nights. Tourists outnumber locals quite often in Karlovy Lazne.
Here you can see more information and the location and hotels near Karlovy Lazne.
Most Legii (Legion Bridge)
This picture of Novotneho Lavka and Karlovy Lazne was taken from Most Legii (Legion Bridge), which connects Ujezd (southern part of Lesser Quarter) with Strelecky Island and National Theatre, upstream the Vltava from Novotneho Lavka.
Topics: Places in Prague, Charles Bridge pictures, Karlovy Lazne, Lavka Theatre, Most Legii (Legions Bridge), National Theatre, Novotneho Lavka, Prague Pictures, Smetana Museum, Smetanovo Nabrezi, Strelecky Island, Ujezd, Vltava River