Certovka River and Kampa in Winter
Certovka River in Prague
The word "river" is actually wrong, because Certovka is an artificial channel, built hundreds of years ago for the needs or watermills (you can still see a whell on the picture). Certovka exits the Vltava River (the big river in Prague) near Lesser Quarter and after a few hundreds of metres it enters the Vltava again. According to rumours, Certovka got its name after a house called Seven Devils. Devil is "cert" in the Czech language, therefore Certovka means Devil River (or more precisely, Devil Channel).
Kampa Island
The island between the Vltava and the Certovka is called Kampa, but the place is also referred to as Na Kampe (At Kampa). Kampa Island got its name in the early 17th century, when Spanish soldiers camped here, preparing for the Battle of White Mountain (Bitva na Bile Hore, 1620).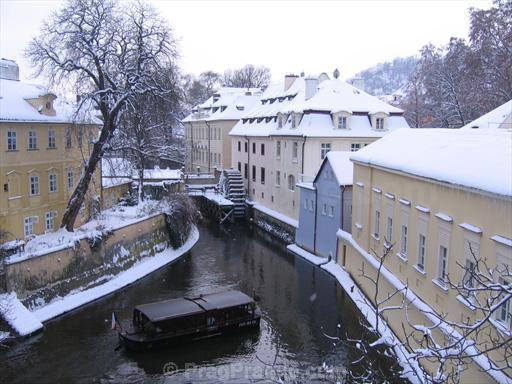 Charles Bridge
This picture of the Certovka was taken from the Charles Bridge. Kampa Island is on the left side and Lesser Quarter is one the right side. Also note that you must be quite lucky to see the centre of Prague so beautifully covered with snow. Usually is only happens for a few days and the snow melts quickly.
Topics: Lesser Quarter, Battle of White Mountain, Certovka, Kampa, Lesser Quarter photos, Prague Pictures, Snow in Prague, View from Charles Bridge, Vltava River