Na Kampe in Prague, Winter Picture
Prague Kampa Island
Kampa or Na Kampe is an island in Prague Lesser Quarter (Mala Strana) very close to Charles Bridge (Karluv Most, the famous stone bridge).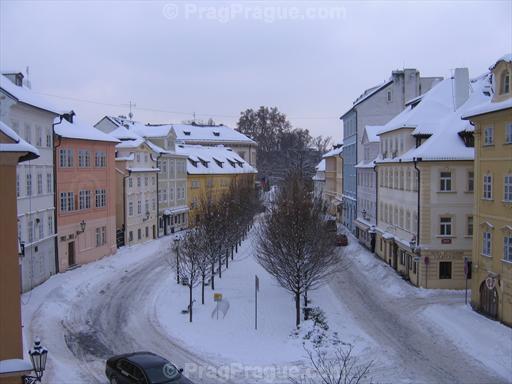 This picture was actually taken from Charles Bridge. Kampa Island probably existed already in the 12th century, but it only got its name in the 17th century, when Spanish soldiers camped (therefore Kampa) here before the Battle of White Mountain (1620).
Certovka Canal
Kampa island is situated between the Vltava River (the big river in Prague) and Certovka Stream (also referred to as Certovka Canal or, incorrectly, Certovka River). Certovka is in fact an artificial channel, originally built for a water mill. Today you can still see a big mill wheel in Certovka. Its Czech name means Devil's Stream. According to rumours, it was named after a vixenish woman, who lived here in a house named Seven Devils.
Na Kampe Street / Square
Na Kampe Street, which actually forms a square in the place seen on the photo, is the main street on Kampa Island. Other streets on Kampa Island (which is actually quite small) are Hroznova Street and U Sovovych Mlynu (By Sova's Mills). Sova's Mills are a complex of houses on the eastern (Vltava river side) bank of Kampa Island, which today serves as Kampa Museum – a museum of Czech and Central European modern art.
Topics: Lesser Quarter, Battle of White Mountain, Certovka, Hroznova Street, Kampa, Kampa Museum, Prague Pictures, Sovovy Mlyny (Sova's Mills), U Sovovych Mlynu, Vltava River