Bedrich Smetana Statue and Prague Castle
Bedrich Smetana Statue and Museum in Prague
Muzeum Bedricha Smetany – the museum dedicated to life and works of Bedrich Smetana – is situated at Novotneho Lavka in Prague city centre, very close to Charles Bridge, at the northern end of Smetana Embankment (Smetanovo Nabrezi). In front of Smetana Museum there is the statue of Bedrich Smetana, which is a popular picture-taking object for tourists, especially thanks to Charles Bridge and the panorama of Prague Castle and St. Vitus Cathedral in the background.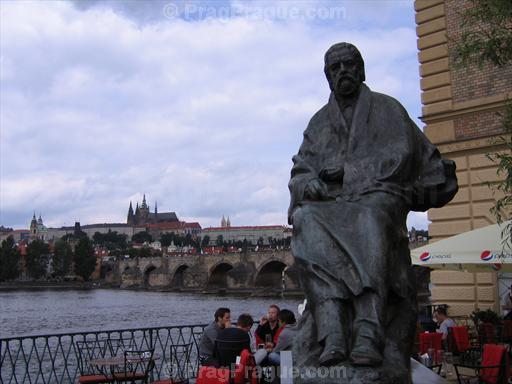 Bedrich Smetana Short Bio
Though less known to international audience than Anotnin Dvorak, Bedrich Smetana (1824-1884) is one of the most famous Czech composers, especially to Czechs. His best known works, which helped form the Czech national identity during the late period under Habsburg rule, include the symphonic cycle Ma Vlast (My Country or My Homeland) and 9 operas (among them The Bartered Bride – Prodana Nevesta and The Brandenburgers in Bohemia – Branibori v Cechach). Smetana is also known for the fact that he created much of his best works while totally deaf in the last 10 years of his life.
Topics: Classical Music, Antonin Dvorak, Bedrich Smetana, Charles Bridge pictures, Karlovy Lazne, Lavka Theatre, Ma Vlast (My Country) by Smetana, Novotneho Lavka, Prague Castle pictures, Prague Pictures, Smetana Museum, Smetanovo Nabrezi, St. Vitus Cathedral