Wallenstein Garden in Prague Lesser Quarter
Prague Wallenstein Garden
Wallenstein Garden (Valdstejnska Zahrada) is an early Baroque garden adjacent to Wallenstein Palace in Prague Lesser Quarter. Both the garden and the palace were established in the 17th century by Albrecht of Wallenstein (Albrecht z Valdstejna). Wallenstein Garden is a popular tourist attraction. It is dominated by a pond with a small island in the middle. There are many statues and sculptures in various places in Wallenstein Garden, often featuring characters from Ancient Greek and Roman mythology (such as Apollo, Venus, Neptune, or Bacchus).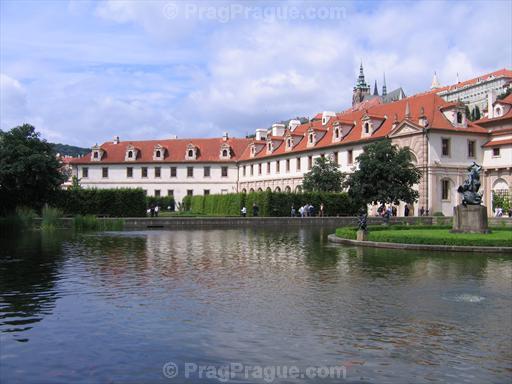 Wallenstein Palace
Wallenstein Palace (Valdstejnsky Palac) is currently the seat of the Czech Senate (Senat), the upper chamber of Parliament of the Czech Republic.
Prague Lesser Quarter
Wallenstein Palace and Garden are located in Lesser Quarter (Mala Strana), a historical district between Prague Castle and Prague Old Town. In fact, you can see part of Prague Castle and St. Vitus Cathedral behind the palace on the picture. Here you can see more information about hotels near Wallenstein Garden and Palace.
Wallenstein Garden directions
Wallenstein Garden and Palace are best accessible by metro (Malostranska Station) or tram (Malostranska or Malostranske Namesti tram stop).
Topics: Lesser Quarter, Albrecht of Wallenstein, Czech Republic Parliament, Czech Senate, Lesser Quarter photos, Prague Castle pictures, Prague Pictures, St. Vitus Cathedral, Valdstejn Gardens, Valdstejn Palace, Wallenstein Garden, Wallenstein Palace