Bila Labut Department Store at Wenceslas Square
Bila Labut Department Stores
Bila Labut (which means White Swan in Czech) is a long-established Czech (formerly Czechoslovakian) brand of department stores. You will find several Bila Labut stores in Prague city centre. They have been around for decades and therefore their looks can't compete with the giant flashy shopping centres built by developers in the recent years. Nevertheless, if you want to experience shopping with the traditional Czech (or Czechoslovak) feel, visit Bila Labut. There is also a McDonald's restaurant at the ground floor (that of course is not that traditional Czech).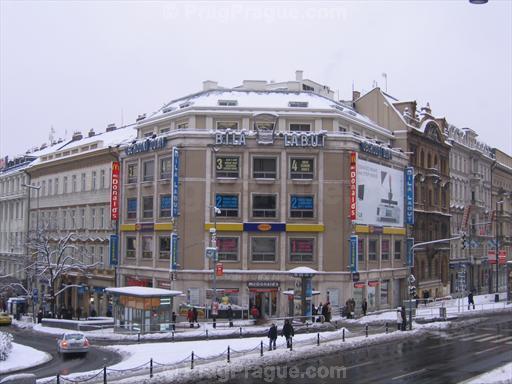 Wenceslas Square in Prague
Wenceslas Square (Vaclavske Namesti in Czech) is probably the most important square in Prague. It was named after the patron of the Czech state, St. Wenceslas (Svaty Vaclav in Czech), whose big statue stands at the upper end of the square, just a few metres from National Museum building and Bila Labut department store, which you can see on this picture. Shops, restaurants, and hotels can be found in most houses at Wenceslas Square. In fact, many Wenceslas Square hotels are among the oldest and best in Prague.
How to get to Bila Labut at Wenceslas Square
Bila Labut is located at the upper end of Wenceslas Square, immediately above Muzeum metro station (interchange of lines A and C). In fact, you can see an exit from the metro station just in front of the department store on the picture.
Topics: Wenceslas Square, Bila Labut, McDonald's in Prague, Muzeum Station, Prague department stores, Prague Pictures, St. Wenceslas, Wenceslas Sq. hotels