Tram on Sokolovska Street near Invalidovna
Sokolovska Street in Prague Karlin district
Sokolovska is one of the main streets in Prague Karlin district. It begins at the place known as Florenc (most foreigners know it as the location of Prague Florenc Central Bus Station), as the continuation of Na Porici Street. There are tram tracks in the middle of Sokolovska Street – they provide the most direct tram connection between Florenc Station and Palmovka, or between Prague city centre and residential districts in the north-east (like Vysocany, Liben, or Hloubetin). Another street that runs closer to the river parallel to Sokolovska in this area is Rohanske Nabrezi (Rohanske Embankment).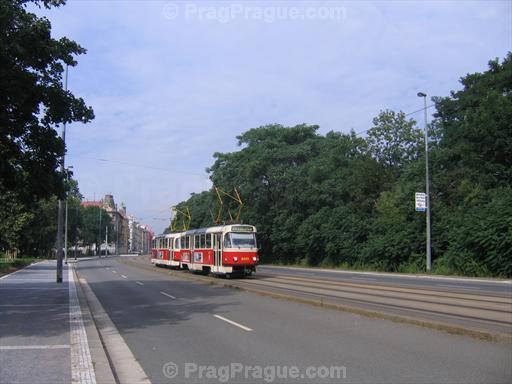 Prague Invalidovna building
This picture was taken at the place where Sokolovska Street passes Invalidovna building and Kaizlovy Sady Park (the trees on the left of the photo).
Invalidovna Metro Station
The place is very close to Invalidovna metro station and tram stop. Immediately after Invalidovna Station, Sokolovska Street and the tram tracks start to ascend slightly before the trams turn left to Palmovka. Sokolovska Street passes Palmovka from the south and continues to Liben and Vysocany, where it eventually ends at Vysocanska Metro Station.
Topics: Prague Streets, Florenc Central Bus Station, Invalidovna (building), Invalidovna Station, Kaizlovy Sady, Karlin, Palmovka Station, Prague Pictures, Rohanske Nabrezi, Sokolovska Street